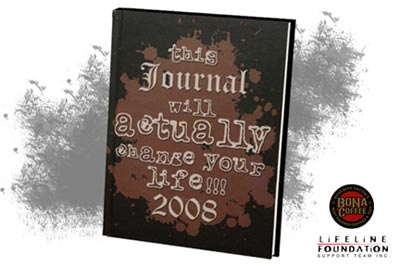 There have been a lot of things that have preoccupied my schedule these days. I have been fully booked with training in TELUS, submitting my Manuscript to Anvil, and other rather tedious things that would be enough to fill up an entire paragraph of this article. People have asked me time and time again how the heck am I able to balance all of these things and still get time to rest and sleep. I simply smile and to be honest my secret to time management is to take the initiative to actually write down the things I want to do in the week and then put the list down and do it.
Of course having a journal or an organizer can help alot in allocating the daily schedule needed and in my search for the perfect journal I found a journal that is actually titled : this Journal will actually change your life!! 2008. You can already see why this thing instantly caught my attention. I took a peak and browsed through the pages and was rather pleased at at how much world trivia and feel good stuff has been incorporated into the journal. It also has a weekly mood chart that you can use to monitor your emotions. The thing that made me think twice though was the price tag Php 850 for a journal. I had to laugh at this fact because I normally use the journals that come free from starbucks, coffee bean, seattle's best (still waiting for this one as they ran out of stock) and other popular coffee schops but what made the choice easy for me was that the publishing company
http://www.freespeechpublications.com/
was selling these things for charity. Being an advocate of giving to those in need the right way i instantly shrugged of the price and bought it. It is always a great thing to help others especially at the start of the new year.
If your interested in purchasing this unique journal which will definitely help you while empowering you ro help others simply pay a visit to Fully Booked. Let's start this year right.