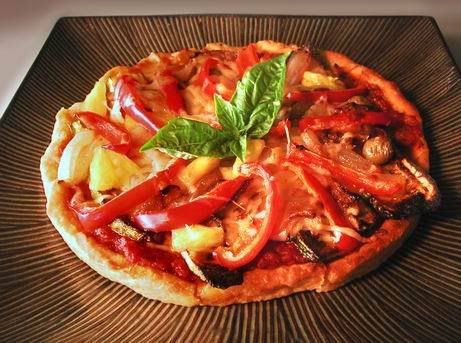 I love Pizza and there is no doubt about it. I love it because of three main reasons:
1. It is a complete meal as it contains all the goodies you can think off.
2. It is so easy to make: simply get a ready made dough from the grocery, your favorite tomato sauce, mozzarella cheese, your favorite toppings and extra cheese to your liking plus hot sauce if you desire and of course bake in oven at 250 degrees to 350 until cooked to perfection usually about 10 to 30 minutes depending on the thickness and ingredients used (the thinner the shorter the cooking time the thicker the longer - ingredients the fresher the longer the more pre cooked the shorter.)
3. And of course the happy feeling I get with the satisfaction of eating it all by myself especially when one is feeling so down and depressed and it is simply raining cats and dogs outside.
If you have a favorite way to enjoy your pizza tell us your story we'll add it on here as an add on feature story. We all have our pizza moment. And on that note am craving to make some more. mmmmmmm! enjoy everyone :)
PS. I found this site that is giving out gift certificates from CPK and all you have to do is talk about how pizza is your comfort food :)
You can check it out by following this link to check it out -
PinoyCravings.com