I chanced upon this wickedly cool site that analyzes a bloggers personality based on what he of she writes about or what content can be found in the site. This is what I got.
ESTP - The Doers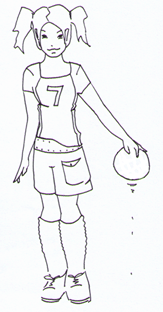 The active and play-ful type. They are especially attuned to people and things around them and often full of energy, talking, joking and engaging in physical out-door activities.
The Doers are happiest with action-filled work which craves their full attention and focus. They might be very impulsive and more keen on starting something new than following it through. They might have a problem with sitting still or remaining inactive for any period of time.
This site almost got me down to the core hehehe. You should try it out and check for yourself and tell me what you got and I'll make a link list so everyone can check you out too :)
this is the site:
Typealyzer
have Fun now :)
1. Metz - Empty Streets: The Doers
2. Marzie -
Mariuca
: ESFP - The Performers
3. Emila Yusof:
Emila's Illustrated Blog
- The Performers
4. Monica:
Turn U Off
- The Performers
5. Slavezero:
PCremix
- The Doers
6. George Serrindinho:
Serrandinho
- The Performers
7.
East Coast Life
: The Performers
8. LJ:
Jady Java
The Doers
9. Kirhat:
Seek no More
,
Nesting Buddy
and
PolitEkon
- The Doers