It is time to feature another sports star and this one is rather special as he was requested for by a special friend Monica of Turn U Off. But before I start talking about her favorite football star I would like to introduce you to this wonderful friend of mine who is a very talented blogger that you should definitely check out. She has talked about a lot of her personal experiences that are just so engaging which is just as well since her personality too is quite entertaining and is very accommodating to those that starts a conversation with her. The photos she takes are just so lively and full of fun and excitement. You simply have to go to her site to experience it yourself and be mesmerized by her charm.

Now let's move on to the requested article - Monica this is for you :)

Cristiano Ronaldo dos Santos Aveiro -
born 5 February 1985 is a Portuguese footballer who plays as a winger for English Premier League club Manchester United F.C. and the Portuguese national team.
Ronaldo began his career as a youth player at C.D. Nacional and his successes with the team led to a move to Sporting two seasons afterwards. Ronaldo's precocious talent caught the attention of Manchester United manager Sir Alex Ferguson and he signed the 18-year-old for £12.24 million in 2003. The following season, Ronaldo won his first club honour, the FA Cup, and reached the UEFA Euro 2004 final with Portugal, in which he scored his first international goal.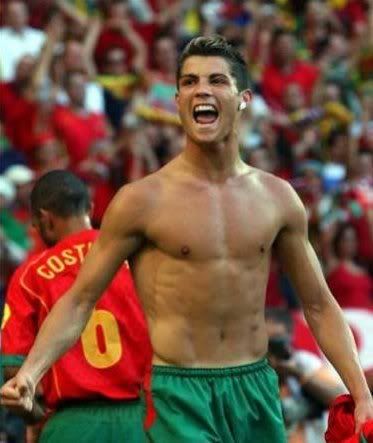 In 2008, Ronaldo won his first UEFA Champions League title, and was named the final's Man of the Match. He was named the FIFPro World Player of the Year and the FIFA World Player of the Year, in addition to becoming Manchester United's first Ballon d'Or winner in 40 years.

Hope you all enjoyed this sports special feature. Till the next time. xoxo