Posted 8:45 AM
by
Mezhal Ulao
in
Labels: Editorial
It is the month of love and nothing is better than giving out linky love to my blogging friends. I have to thank all of them here for it is because of these people here on my list that Empty Streets 1027 is the way it is today. Love yah guys lots :)
Empty Streets Loves These Blogs
***start copy***
Rules:
1) Once you're tagged, install the corner banner at your blog as a third party html code. (The corner banner need to stay at your blog for at least 2 weeks).
2) Post about this meme,
Valentine's Love
.
3) Add your blog/s with link/s to the Valentine's Lovers list and leave a comment at this post
HERE
.
3) Tag all your special friends.
4) Please remember to update your list regularly so that you would not miss out anyone in your Valentine's Lovers list.
Corner Banner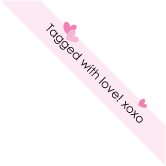 Instruction to install corner banner
(For blogger):
1. Go to 'Layout', Click on 'Add a Gadget'.
2. Select 'HTML/ Javascript', insert the html code above in the provided box.
3. Click 'Save'.
Valentine's Lovers:
***end copy***