We have already featured the top 2 most searched athletes of 2008 and now it is time to feature our number 3 on the list Danica Patrick. Like the other powerhouse women we have featured in the last Sports Saturday articles Danica is definitely in a league of her own and is becoming an icon for women and an item for men to drool over. But don't be fooled so easily for this talented athlete has a lot to offer than her hot sizzling looks.
Danica Sue Patrick (born March 25, 1982 in Beloit, Wisconsin) is an American auto racing driver, currently competing in the IndyCar Series. She was raised in Roscoe, Illinois. Patrick was named the Rookie of the Year for both the 2005 Indianapolis 500 and the 2005 IndyCar Series season. In May 2006, she published her autobiography, Danica: Crossing the Line. With her win in the 2008 Indy Japan 300, Patrick became the first woman to win an Indy car race. She also has an equity stake in her #7 team
Prior to her win in Motegi, the most notable criticism of Patrick was that she had not won a race in three years of IRL competition and still garnered significant media attention. She is frequently promoted in mainstream and motorsport media, and has been compared to female athletes like Anna Kournikova for her apparent willingness to be marketed on her looks, examples being her appearance in FHM in April 2003 and Sports Illustrated in June 2005, February 2008, and February 2009.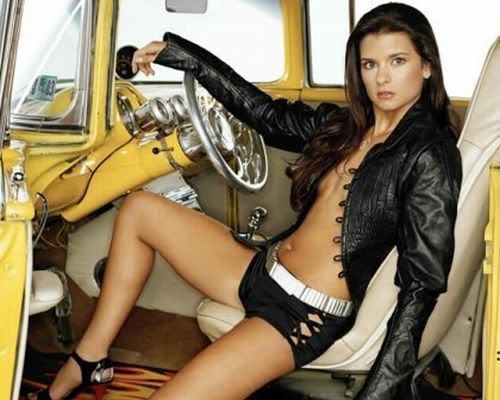 Before 2008, some racing journalists, IndyCar fans, and other drivers claimed that Patrick's relatively low body weight gave her an advantage in the IndyCar series, which had a strict minimum weight set for the cars but which did not account for the driver's own weight. Patrick's height is 5 ft 2 in (1.57 m) and she weighs 100 pounds (45 kg; 7 st 2 lb). By comparison, the IRL's tallest driver in 2008 is 6 ft 3 in (1.91 m) Justin Wilson who weighs 176 pounds (80 kg; 12 st 8 lb). The Dallara cars used in the IRL series weigh between 1,530 pounds (690 kg) and 1,600 pounds (730 kg), excluding the driver and 22 U.S. gallons (83 L; 18 imp gal) of fuel. IRL President Brian Barnhart thinks the advantage is exaggerated, telling Dave Caldwell for The New York Times that Patrick's weight "had a minimal effect on the competition." With the IRL-Champ Car unification prior to the 2008 racing season, the rules were revised to define the minimum weight of the car as including the driver.
Conversely, some have noted Patrick's disadvantage given the lack of power steering.
Several male drivers have made negative comments about Patrick's ability, as a woman, to race successfully. Former driver Richard Petty responded, in a separate interview, by stating, "I just don't think it's a sport for women, and so far, it's proved out. It's really not. It's good for them to come in. It gives us a lot of publicity, it gives them publicity. But as far as being a real true racer, making a living out of it, it's kind of tough." After Patrick's IRL win, she was praised by many drivers. NASCAR driver and former IRL champion Tony Stewart, for example, said "I think obviously she's got talent; she's been successful in every form of racing she's been in so far and I don't see why she wouldn't be successful here [in NASCAR]." Bob Margolis of Yahoo! Sports criticized Patrick for her actions after being taken out of the 2008 Indianapolis 500 after a pit road collision with Ryan Briscoe, writing that "Patrick's drama queen theatrics have worn thin
With all that being said here is a video commercial of Danica for you to enjoy: