My Habi loves to play badminton a lot and I guess it is because of that I am posting this for a change. I have to say that as a sport Badminton has been fast growing in popularity here in the Philippines. It has become a favorite past time recreational sport here that at times you would see people playing it on the streets and parks. Amazingly too, a lot of other neighboring Asian countries have similar stories with this particular sport and thus should not be a surprise to see them on the Top Five list of World's best badminton players for 2009.
1) Lee Chong Wei - Malaysia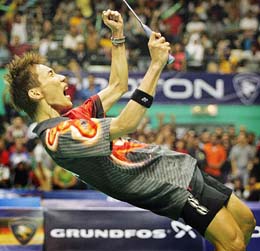 Datuk Lee Chong Wei (simplified Chinese: 李宗伟; pinyin: Lǐ zōng wěi, born in George Town, Penang; October 21, 1982[1]) is a professional badminton player from Malaysia who resides in Bukit Mertajam. Lee won the silver medal in 2008 Olympic Games, thus becoming the first Malaysian to reach the final of the men's singles event and ending Malaysia's Olympic medal drought since the 1996 Games. This achievement also earned him the title Datuk, and a description by Malaysian minister Najib Tun Razak as national hero.
As a singles player, Lee was again ranked first worldwide on August 21, 2008. He is the third Malaysian men's singles shuttler after Rashid Sidek and Roslin Hashim to achieve such a ranking (since official rankings were first kept in the 1980s), and is the only Malaysian shuttler to hold the ranking for more than two weeks.
2) Lin Dan - People's Republic of China
Lin Dan (simplified Chinese: 林丹; pinyin: Lin Dan) (born October 14, 1983) is a Chinese badminton player of Hakka ancestry, from Fujian, in the People's Republic of China. Lin Dan is currently the dominant singles badminton player on the world stage
Lin became one of the dominant players of men's singles, winning nine top tier international championships between 2002 and 2004. In a surprise loss, he was eliminated in the first round of the badminton men's singles in the 2004 Summer Olympics in Athens. However, he has continued his dominance in international tournaments and has been continuously ranked number one in the world since early 2004, except for a very brief period of time in 2006 when Lee Chong Wei of Malaysia overtook him.
3) Chen Jin - People's Republic of China
Since winning the Asian Junior Badminton Championships in 2004, Chen has developed into one world's elite men's singles players. His titles include the Polish (2004), French (2004), German (2006), Swiss(2007), and Macau (2007) Opens. Chen captured the China Masters title in 2006, and in 2008 he won his biggest title to date, the prestigious All-England Championships over his teammate and world number one Lin Dan. At the 2008 Beijing Olympics, however, he was beaten in the semifinal by Lin Dan and settled for a bronze medal after defeating Korea's Lee Hyun-il in the playoff for third place. Chen was also a bronze medalist at the 2007 World Championships and a silver medalist at the 2008 Badminton Asia Championships. He is a member of China's world champion Thomas Cup (men's international) team which has lifted the highly coveted cup for three consecutive campaigns (2004, 2006, 2008).
4) Bao Chunlai - People's Republic of China
The tall, powerful Bao has ranked among the world's leading singles player during the first decade of the 21st century. He has been an especially valuable member of China's world champion Thomas Cup (men's international) teams of 2004, 2006 and 2008, winning a key singles match in the championship round of each contest. Bao has medaled in three of the four BWF World Championships that he has played in, earning a bronze in the 2003 and 2007 editions, and a silver in the 2006 Championships in Madrid, falling to teammate Lin Dan in the final. A frequent finalist in top tier international tournaments, Bao has had some difficulty breaking through in them. Outside of team events, his biggest wins have come in the Denmark (2001), Korea (2006), and China (2007) Opens. His performances in the Olympic Games have been somewhat disappointing. He was beaten in the round of sixteen at the 2004 Athens Olympics and in the quarterfinals of the 2008 Olympics in Beijing.
5) Sony Dwi Kuncoro - Indonesia
Sony Dwi Kuncoro (born July 7, 1984, Surabaya, Jawa Timur, Indonesia) is a male badminton singles player from Indonesia.
When he was young, he joined the Suryanaga Surabaya badminton club. His parents are Moch. Sumadji (father) and Asmiati (mother). His hobbies are fixing automobiles and hanging-out or travelling. Generally people call him Sony, which can also be spelled as Soni.
In September 23, 2007, Sony won the Chinese Taipei Open after beating Taufik Hidayat at the final round by 18-21, 21-6, 21-13. Sony has also won the men's singles gold medal twice at the Southeast Asian Games (2003, 2005). At the SEA Games in 2007, Sony helped the Indonesia win gold at the men's team event. In June of 2008, Sony won the Indonesian Super Series after beating Simon Santoso in the final round by scores of 19-21, 21-14, 21-9 in Istora Senayan, Jakarta. In September of 2008 Sony won the Japan Super Series after beating Lee Chong Wei from Malaysia in straight sets 21-17, 21-11 in the final round. Also in September of 2008 he captured the China Masters Super Series by beating China's Chen Jin 21-19, 21-18 in the final, thus becoming the first player to win men's singles at three consecutive "super series" tournaments.
Here is the video of the best badminton player for 2009 in action:
Hope that you enjoyed today's article and that it entices you to try this sport out. Always stay healthy :)